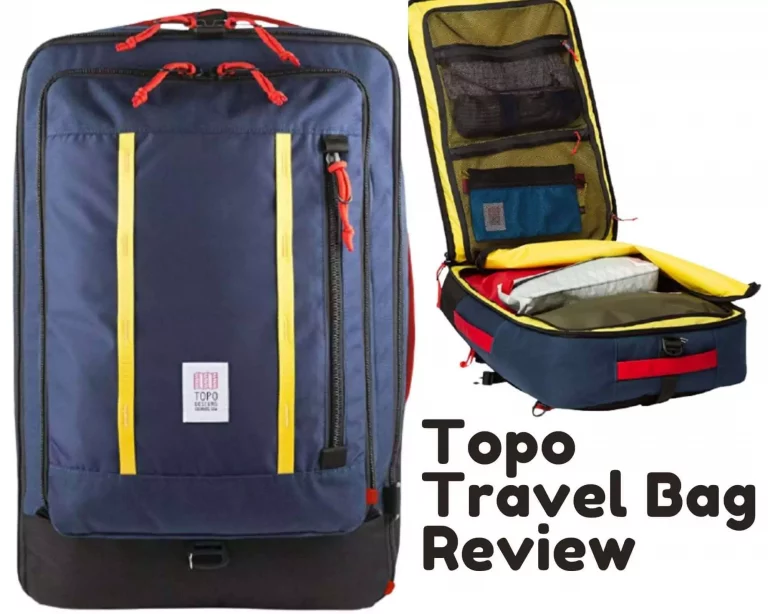 Topo Designs travel bag. It can be tough to pick a travel bag that is the right size for your carry-on requirements. Something that is both light and strong is what you need. All of your gear, including a laptop, should be able to fit in the bag without it being too heavy. You want it to be long-lasting and have additional security measures.
Need a new bag for your upcoming vacation? Let us tell you about Topo Designs travel bags. Is it the bag you were searching for all along, or is it just not to your taste? Read this full article to find out everything about this bag!
If you're looking for a 30 or 40-liter backpack, then a topo travel bag has got you covered. It has a lot of distinctive features. 
As a company, Topo Designs has a long history of producing vintage-inspired backpacks and other accessories. Although their products have a retro vibe, they are all made with high-quality materials and have a slew of great features.
Before We start the list of best day hiking backpacks, check out the article about professional work backpacks.
So with no further ado let's start our article.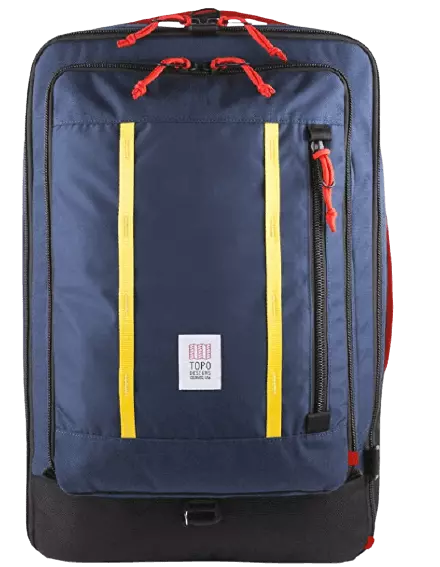 The Topo Travel Bag is a versatile bag that may be worn on a busy subway, stashed under an aircraft seat, or taken on a short road trip. The retro appearance and thin but tall proportions make it simple to slide past crowds. 
An integrated security system and a variety of ways to carry it make this bag a must-have accessory for anyone embarking on a cross-country or international journey. 
It's also available in a wide range of hues, so there's something for everyone. In addition to ballistic black, the Topo Designs Travel Bag is also available in olive, navy, and vibrant yellow and red for those who want a more modest colour palette.
Nylon 1000D is used to make the outer fabric. Not Cordura, as you'll find on many of their other bags, but regular, no-frills nylon is what this bag is made of. 
The bottom of the bag is reinforced with a ballistic weave to increase its sturdiness. This is a frequent place to put reinforcements because the bag will continuously rub against the ground and other objects. Some of the outsides are also covered in 400D nylon pack fabric.
For added security, the main compartment has an extra-sturdy #10 zipper. As far as we're concerned, you can't get much better in terms of durability and quality. 
If you were able to shatter that bad boy, we'd love to know what you were up to. As far as we can tell from looking at the plastic parts, Woojin and Duraflex hardware are also utilised for those plastic parts that connect to the sternum strap and harness system, respectively.
Load-lifters that sit comfortably outside of your armpits come with a harness system. However, the removable waist belt is not cushioned, so the weight is distributed evenly across your shoulders. 
There are a few additional options in our test suite that are cosier than this one. However, the regular shoulder straps and sternum buckle are not what make this bag stand out. It stands out from the rest because of its overall shape. In order to keep the weight close to your body, this bag is both tall and wide but shallow. 
Because the bag does not dangle far from your body, it makes it easier to carry larger objects like a laptop or textbooks. The main compartment's thin foam also provides some structure and cushioning.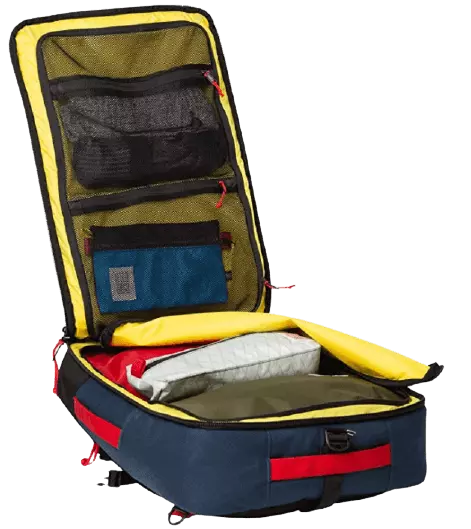 Small tabs on the pack's outside provide support while zipping it up and closed; two robust daisy chains allow you to clip items like hand sanitizer, a hat, or a water bottle; and security loops on the two main zipper pockets prevent theft. 
The top and sides of the bag include broad, durable grab handles for simple storage. A roller suitcase sleeve is included in this 3-way-carry bag, allowing you to take a break from the strain on your shoulders when you're travelling for a lengthy period of time.
PackFast Attachment Clips not only allow you to attach a daypack, but they also come with a host of other useful functions.
Bundle discounts for luggage accessories are also available from Topo to guarantee that you have everything you need to enjoy your travels. It takes a while to get your head around all these small straps and clips, but we still love having them. 
Size: This is the ideal size for a small carry-on bag.
Convenience: going in and out of busy places without having to remove it is simple because of its small size.
The Perfect Weight: Incredibly light, yet also quite sturdy. 
Versatility: The "three ways to carry" design provides a great deal of versatility.
Many airlines' carry-on size limitations don't correspond with the 40-liter dimensions if packed to capacity. Convenience: going in and out of busy places without having to remove it is simple because of its small size.
It might be difficult to keep track of all of the pockets (for something simpler, try the Osprey Talon or the Osprey Farpoint). Versatility: The "three ways to carry" design provides a great deal of versatility.
No water bottle holder can be found (but you can find a clip-on or packable water bottle in my list of best water bottles). 

The Aether Plus 60 is more than just a hiking pack; it's as at home on the trail for a week as it is on a gear-heavy weekend. Because of its stable, close-to-body carry, this pack is ideal for carrying heavier loads through difficult terrain.
The harness method may be enough for a weekend trip, but it may be overly simplistic for a longer journey. Look into alternative choices if you're going to be gone for a few weeks.